For that perfect Fruitful Glow!
Our SUPER BERRIES supplement contains 10 different fruits and berries that are packed wit healthy fatty acids and antioxidants promoting a health gut and skin.* It includes, but not limited to, Acai Berry, Acerola Cherry, Maqui Berry, Cranberry, and Pomegranate!
Share
Main Benefits

Brings a radiant and moisturizing glow to the surface of the skin.*
Delivers various vitamins, minerals and healthy fatty acids for an everyday immune and nutritional support.*
Promotes digestive health as well as the growth of beneficial gut bacteria with plant compounds and polyphenols.*
Product Details

Non-GMO & Gluten-free
Product Type: Capsule
1,000mg Per Serving (2 Capsules)
Manufactured in a cGMP certified facili
Ingredients

Main Ingredients: Acai Berry (Euterpe oleracea; Fruit), Acerola (Malpighia emarginata, Fruit; Standardized to 25% Vitamin C), Amla Organic (Phyllanthus emblica; Fruit), Cranberry (Vaccinium macrocarpon; Whole Fruit), Goji Berry (Lycium barbarum, Fruit; Standardized to 45% Polysaccharides), Jabuticaba (Plinia cauliflora; Fruit), Mangosteen (Garcinia mangostana; Whole Fruit), Maqui Berry Organic (Aristotelia chilensis; Whole Fruit), Pomegranate (Punica granatum; Arils), Strawberry (Fragaria vesca; Fruit)

Other Ingredients:

Veggie Capsule
How to Use

Take 2 capsules daily with a meal or on an as-needed basis.
Always consult a healthcare professional before taking this or any supplement.
Our SOLNUVI™ Brand

Learn more about our new brand SOLNUVI™ using the link below!
View full details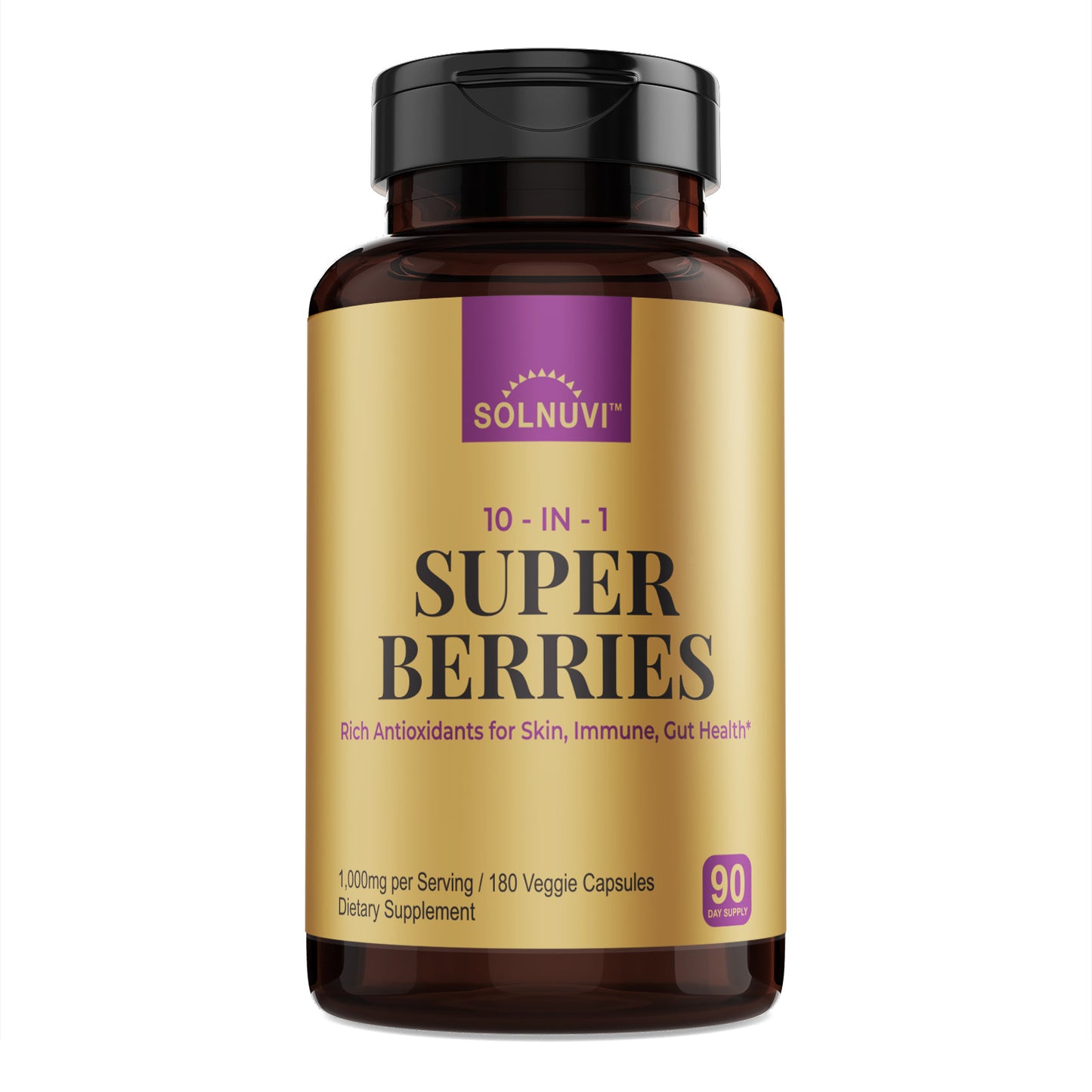 SUPER BERRIES FAQs
What is Acai?

Native to the Amazon region, Acai is a round, dark-purple berry that is considered as a Brazilian "superfruit" due to its highly nutritional content.* It is typically grown on acai palm trees in the rainforests of Central and South America. In order to make Acai edible, one must soak the berry to soften its tough outer skin and mash it to eventually form a dark-purple paste. Additionally, Acai berries have an earthy taste that is often described as a combination of blackberries and unsweetened chocolate.
What is Acerola?

Also known as a "Barbados cherry" or the "West Indies cherry," Acerola cherry is a plant that is native to tropical regions of the Western Hemisphere, and is believed to have originated in Southern Mexico & the Caribbeans. In addition to its pleasant taste, Acerola is known for its uses in modern and traditional folk medicine as well as its potent Vitamin C content.* Due to decomposing within only five days of harvest, it is most commonly found and consumed in powdered supplements that can be mixed into beverages, smoothies, juices, and more.
What is Amla?

Also known as "Indian Gooseberry," Amla is a fruit tree that is native in various parts of Asia. The Amla fruit tree has yellow-green flowers that blossom into golf-ball sized round fruits, which are identified by the same color and sour taste. Particularly in India, Amla has been utilized for several culinary and traditional herbal medicine uses due to its potent Vitamin C and antioxidant properties.* It is now being used for many supplements on the market today in the form of dried fruits, powders, and extracts.
What is Goji Berry?

Native to Asia, Goji berries, or "wolfberries," are tiny red fruits known for their sweet and slightly sour flavor, vibrant red color, and have been used in traditional medicine for thousands of years. It is considered as a "superfood" due to its great source of nutrients, vitamins and minerals, and potent antioxidant properties.* They can be found in many supplements in dried or powdered forms, various superfood blends alongside other fruits/herbs/extracts, and acai bowl stores as a popular topping choice.
What is Jabuticaba?

Grown directly on the trunk of the Brazilian grape tree, Jabuticaba is a purplish-black, white-pulped edible fruit that is eaten raw or used to make the following: jellies, jams, wine, jams, and more. Its tree grows very slowly, up to a maximum of 45 feet tall, and prefers environments that have moist, rich, and slightly acidic soil. Jabuticaba has been cultivated in Brazil for many years since the pre-Columbian times, and is considered as a commercial crop in the country today.
What is Mangosteen?

Originally from Southeast Asia, Mangosteen is an exotic, tropical fruit with a slightly sweet and sour flavor, and can be found in various tropical regions around the world. It can be identified in its deep purple color on the outside along with its bright-white juicy inner flesh. Although relatively low in calories, Mangosteen is an antioxidant-packed superfruit that can provide many essential nutrients, including vitamin C, folate, vitamin B, manganese, copper, and magnesium.*
What is Maqui?

Also known as "Chilean Wineberry," Maqui Berry is a dark-purple fruit/tree species in the Elaeocarpacae family that is native to South America in the Valdvian temperate forests of Chile and adjacent regions of Southern Argentina. Due to its high content of potent antioxidants, Maqui Berry is marketed today as a powerful Superfruit that demonstrates many potential health benefits, including anti-inflammation, blood sugar and cholesterol regulation, and cardiovascular health.*
What is Pomegranate?

Best known for its vibrant red color, Pomegranate is a low-calorie, round, red fruit with a white inner flesh. This particular fruit is considered to have originated from Iran, south-west Pakistan, and parts of Afghanistan. It is packed with crunchy, juicy, and red edible seeds called arils, which are packed with immune-supporting nutrients, fiber, and antioxidants.*
How much Antioxidant Berries are included in SUPER BERRIES?

Our SUPER BERRIES supplement contains a total of 1,000mg of the Antioxidant Berries blend in each serving.
How do I take SUPER BERRIES?

 Take 2 capsules daily with a meal or on an as-needed basis. If necessary, please consult a healthcare professional.
How many servings are in SUPER BERRIES?

There are 90 servings and 180 capsules per container, 90-day supply, and 1,000mg per serving!
Is SUPER BERRIES vegan friendly?

Yes, our SUPER BERRIES supplement is vegan-friendly!
Is SUPER BERRIES non-gmo, gluten-free, and dairy-free?

Yes, our SUPER BERRIES is non-gmo, gluten-free, and dairy-free!
More of SOLNUVI™
Discover other SOLNUVI™ products that are to be released with our SUPER BERRIES!
For a healthy tomorrow
To secure a long future, it's necessary to use clean and safe products that can actually deliver results that you desire. That's why Vitapia is committed to developing and formulating supplements that accommodate to your health concerns! All of our products are completely free of GMO and additives & made from a cGMP certified manufacturing facility.