Regular price
Sale price
$24.95
Unit price
per
Sale
Sold out
CHARGE UP & CONQUER AS THE STRONGEST VERSION OF YOURSELF!
Our ALBUMAX supplement is designed with lots of Essential Vitamins, Minerals, Amino Acids, and Complete Proteins, making up a total of 15 POWERFUL ingredients. So, what are you waiting for? Take on the world with better energy, stamina, and of course, well-being!*
Main Benefits

Enhances your overall stamina and vitality with energy-yielding nutrients.*
Supports the immune system and the body's natural inflammation responses.*
Provides an extra nutritional boost for your overall health and general well-being.*
Product Details

Non-GMO & Gluten-free
Product Type: Tablet
1,300mg Per Serving (1 Tablet)
Manufactured in the US at a cGMP compliant facility
Ingredients

Main Ingredients: Vitamin C (Ascorbic Acid), Vitamin E (DL-a Tocopheryl Acetate), Vitamin B1 (Thiamine Mononitrate), Vitamin B2 (Riboflavin), Niacin (Nicotinamide), Vitamin B6 (Pyridoxine HCL), Vitamin B12 (Cyanocobalamin), Egg White Powder (Albumin), Whey Protein (Milk), L-Arginine, L-Glutamine, L-Leucine, L-Valine, L-Glysine, Royal Jelly Powder (Apis mellifera)

Other Ingredients:

Microcrystalline Cellulose, Stearic Acid, Magnesium Stearate, Hydroxypropyl Methylcellulose, Silicon Dioxide
How to Use

Take 1 tablet daily with a meal or on an as-needed basis.
Always consult a healthcare professional before taking this or any supplement.
View full details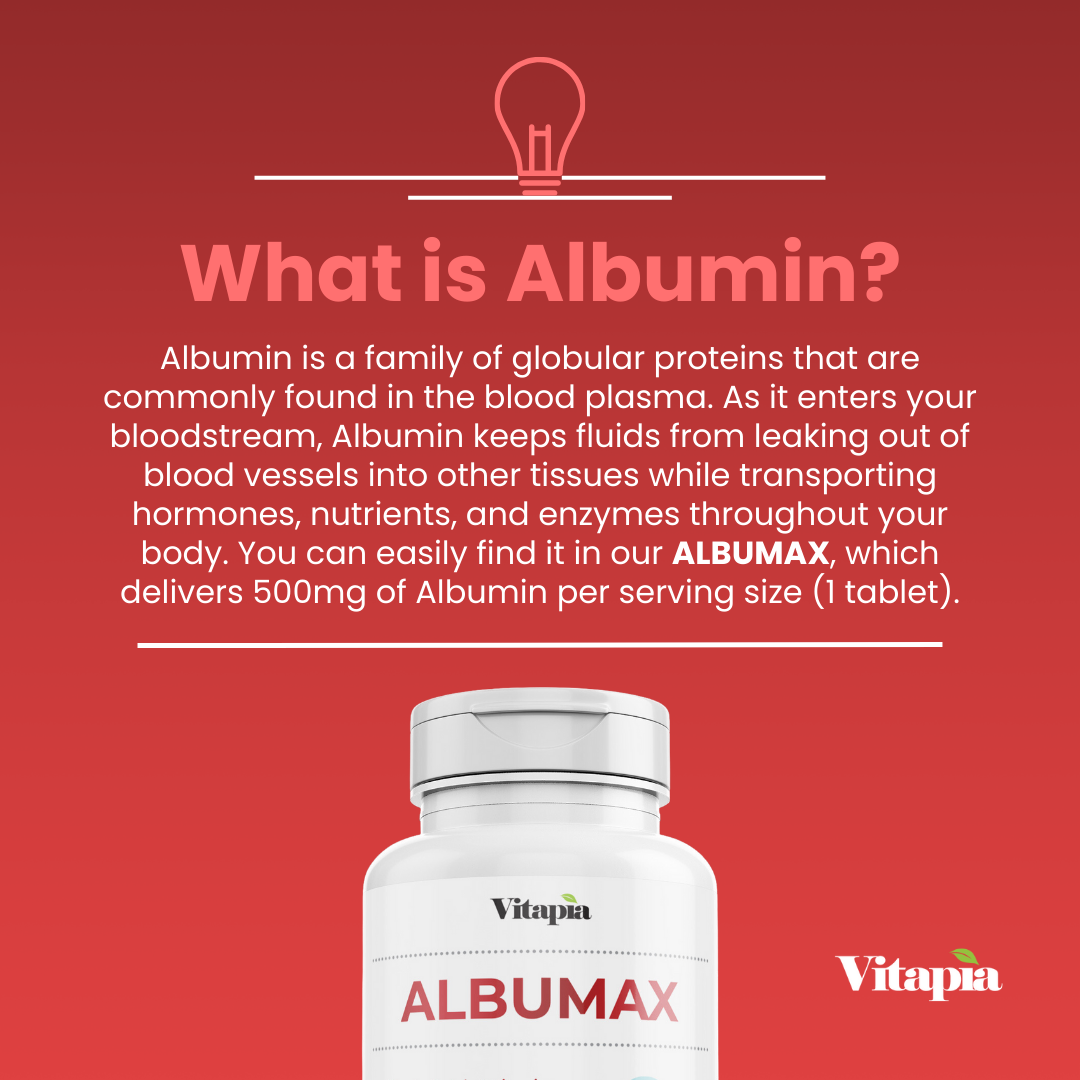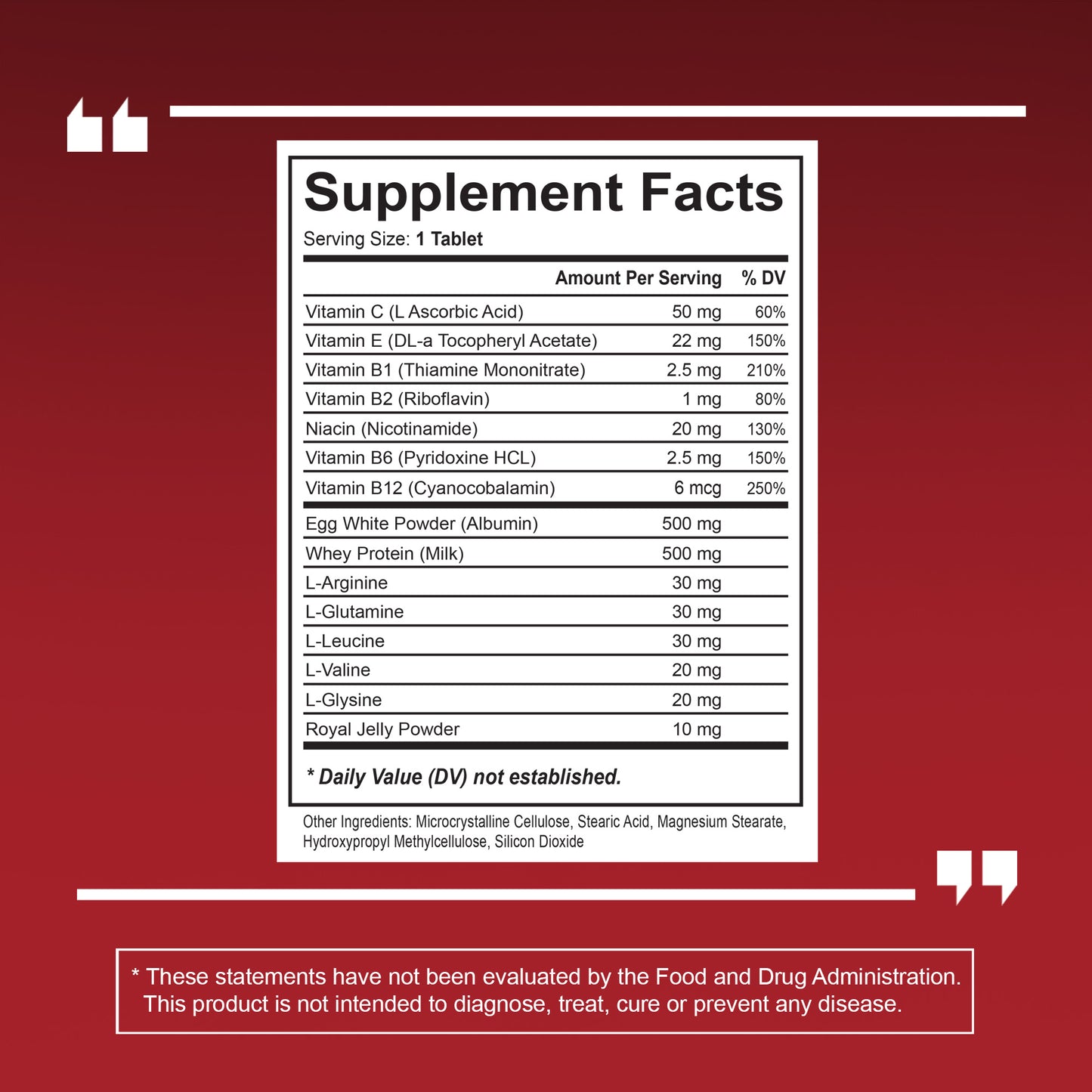 ALBUMAX FAQs
What is Albumin?

Albumin is a family of globular proteins that are most commonly found in the blood plasma. As Albumin enters your bloodstream, it keeps fluids from leaking out of your blood vessels into other tissues. It also transports hormones, nutrients, and enzymes throughout your body simultaneously.
How much Albumin is included in ALBUMAX?

Our ALBUMAX contains a total of 500mg of Egg White Powder (Albumin) in each tablet.
How do I take ALBUMAX?

 Take 1 tablet daily with a meal or on an as-needed basis. If necessary, please consult a healthcare professional.
How many servings are in ALBUMAX?

There are 120 servings and 120 tablets per container, 120-day supply, and 1300mg per serving!
Is ALBUMAX vegan friendly?

No, our ALBUMAX is not vegan-friendly due to containing Egg White Powder, Royal Jelly Powder, and Whey Protein (derived from Milk) in the tablets!
Is ALBUMAX non-gmo, gluten-free, and dairy-free?

Our ALBUMAX is non-gmo, gluten-free, but not dairy-free!
You May Also Like...
Discover other products that can go well with our ALBUMAX!
For a healthy tomorrow
To secure a long future, it's necessary to use clean and safe products that can actually deliver results that you desire. That's why Vitapia is committed to developing and formulating supplements that accommodate to your health concerns! All of our products are completely free of GMO and additives & made from a cGMP compliant manufacturing facility.