Don't take what we say with a Green of salt, because...
Our ALKALIZING GREENS supplement is the perfect addition to your daily routine! It contains 9 Organic Ingredients that are packed with alkalizing nutrients, antioxidants, and plant compounds for a healthy gut, immune system, and skin appearance.* Not to mention, it's the most convenient way possible to support your daily veggie intake!
Share
Main Benefits

Adds a nutritional boost to overall health and well-being.*
Helps with promoting digestion, balancing gut health, and combating bloating.*
Supports overall energy levels, immunity, and skin health due to its high antioxidant content.*
Product Details

Non-GMO & Soy-free
Product Type: Capsule
1,000mg Per Serving (2 Capsules)
Manufactured in a cGMP certified facili
Ingredients

Main Ingredients: Organic Alfalfa Grass (Medicago sativa; Young leaves), Organic Wheatgrass (Triticum aestivum; Leaf and Stem), Organic Barley Grass (Hordeum vulgare; Whole leaf), Organic Lemon (Citrus limon; Fruit), Organic Kale (Brassica oleracea acephala; Leaf), Organic Astragalus 10:1 Extract (Astragalus membranaceus; Whole root), Organic Spirulina (Arthrospira platensis; Whole algae plant), Organic Oat Grass (Avena sativa L; Young leaves), Organic Chlorella (Chlorella vulgaris; Whole plant)

Other Ingredients:

Veggie Capsule
How to Use

Take 2 capsules daily with a meal or on an as-needed basis.
Always consult a healthcare professional before taking this or any supplement.
Our SOLNUVI™ Brand

Learn more about our new brand SOLNUVI™ using the link below!
View full details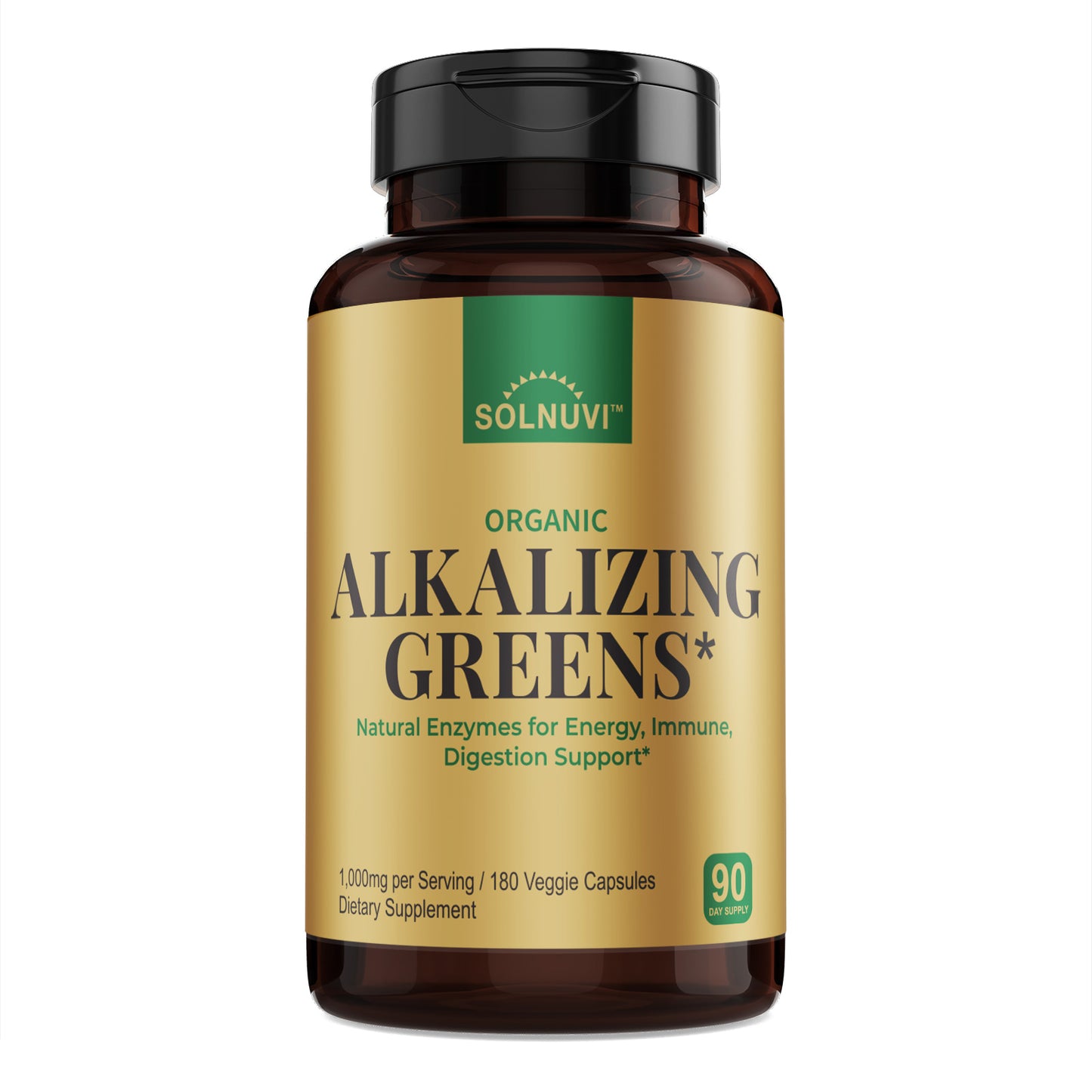 ALKALIZING GREENS FAQs
What is Alfalfa?

Grown as livestock for hundreds of years, Alfalfa is a versatile herb that is classified as a part of the legume family, and has originally come from South and Central Asia. Its seeds, sprouts, powder, and extracts are being heavily utilized in many supplements in today's market due to its antioxidant properties.* It is prized for its rich content of vitamins, minerals, and protein as well.*
What is Wheatgrass?

Packed with lots of nutrients and potent antioxidants, Wheatgrass is a superfood that is usually consumed as a fresh juice.* Many health enthusiasts praise Wheatgrass as an exceptional choice to enhance one's overall health and general well-being.* It contains the following nutrients: iron, calcium, enzymes, magnesium, phytonutrients, amino acids, proteins, etc.*
What is Barley Grass?

Considered as the fourth most important cereal crop around the world, Barley Grass is the leaf of the barley plant that has been studied extensively by health experts, featured in many green juices and supplements, and widely sold in numerous juice shops and health stores. It is often called a superfood, and utilized in supplements for the following health goals and functions: weight loss & management, immune functions, and overall health.*
What is Astragalus?

Utilized in traditional Chinese medicine for many centuries, Astragalus is an ancient plant and/or root that contains many active plant compounds that may help strengthen the immune system.* Also known as "huáng qí" or "milkvetch," Astragalus has been made into liquid extracts/teas/powders as well as given as an injection or by IV in hospital settings.
What is Spirulina?

Often mistaken as a type of plant, Spirulina is a tiny blue-green algae that grows in both fresh and saltwater environments, and consists of cyanobacteria. Cyanobacteria is a family of single-celled microbes that can produce energy from sunlight. Spirulina was consumed by the ancient Aztecs but became popular when NASA proposed that it could be grown in space for astronauts. It is now being used in many types of supplements in today's market for its potent antioxidant properties & essential nutrients.*
What is Oat Grass?

Belonging in the same family as barley grass and wheatgrass, Oat Grass is a type of cereal grass that is native to temperate Europe and Asia. According to many extensive studies and health research, it is loaded with a plethora of nutrients and can boost the body's overall levels of protein, dietary fiber, iron, essential vitamins, zinc, and etc. *
What is Chlorella?

Mainly grown in freshwater environments, Chlorella is a single-celled, green algae that has an impressive nutritional, "superfood" profile as well as over 30 different species. But two types of its species — Chlorella vulgaris and Chlorella pyrenoidosa — have been most commonly used in research. Due to its hard cell wall that humans cannot digest, Chlorella can only be taken as a supplement, and is available in forms of capsules, tablets, powders, and extracts.
How much Organic Greens are included in ALKALIZING GREENS?

Our ALKALIZING GREENS supplement contains a total of 1,000mg of the Organic Greens blend in each serving.
How do I take ALKALIZING GREENS?

 Take 2 capsules daily with a meal or on an as-needed basis. If necessary, please consult a healthcare professional.
How many servings are in ALKALIZING GREENS?

There are 90 servings and 180 capsules per container, 90-day supply, and 1,000mg per serving!
Is ALKALIZING GREENS vegan friendly?

Yes, our ALKALIZING GREENS is vegan-friendly!
Is ALKALIZING GREENS non-gmo, gluten-free, and dairy-free?

Yes, our ALKALIZING GREENS is non-gmo, dairy-free, but not gluten-free!
More of SOLNUVI™
Discover other SOLNUVI™ products that are to be released with our ALKALIZING GREENS!
For a healthy tomorrow
To secure a long future, it's necessary to use clean and safe products that can actually deliver results that you desire. That's why Vitapia is committed to developing and formulating supplements that accommodate to your health concerns! All of our products are completely free of GMO and additives & made from a cGMP certified manufacturing facility.