Regular price
Sale price
$19.95
Unit price
per
Sale
Sold out
This will o-Fish-ially split your Gills.
Our OMEGA 3 FISH OIL supplement is designed with healthy fatty acids (EPA & DHA) and 100% pure ingredients that are easy-to-implement, sustainably sourced, and third-party tested!* These burpless softgels are made to support ALL parts of your body, including your heart, skin, brain, and bones.* Upgrade your daily routine with this high-quality and Fin-tastic supplement!

Main Benefits

Supports cardiovascular and brain health by calming inflammation in your body.*
Helps develop better brain cell communication, enhancing your overall cognitive health and functions.*
Regulates your skin's overall oil production and minimizes acne breakouts by balancing hydration levels.*
Product Details

Non-GMO & Gluten-free
Product Type: Softgel
1,000mg Per Serving (1 Softgel)
Manufactured in the US at a cGMP compliant facility
Ingredients

Main Ingredients: Fish Oil (Anchovy, Sardine, Mackerel), EPA (Eicosapentaenoic Acid), DHA (Docosahexaenoic Acid), Omega-3 Fatty Acids

Other Ingredients:

Softgel (Gelatin, Glycerin, Purified Water, and Mixed Natural Tocopherol)
How to Use

Take 1 softgel daily with a meal or on an as-needed basis.
Always consult a healthcare professional before taking this or any supplement.
View full details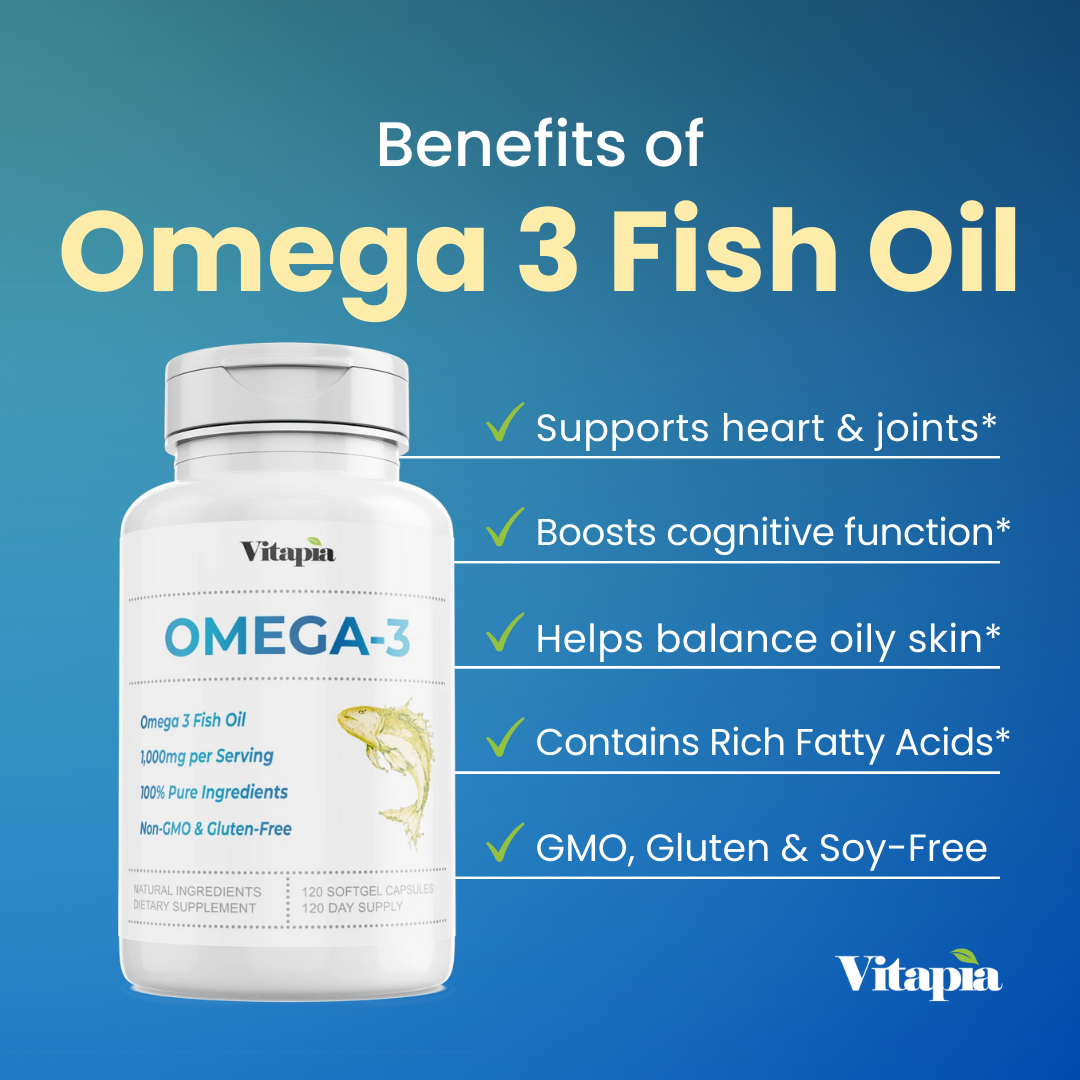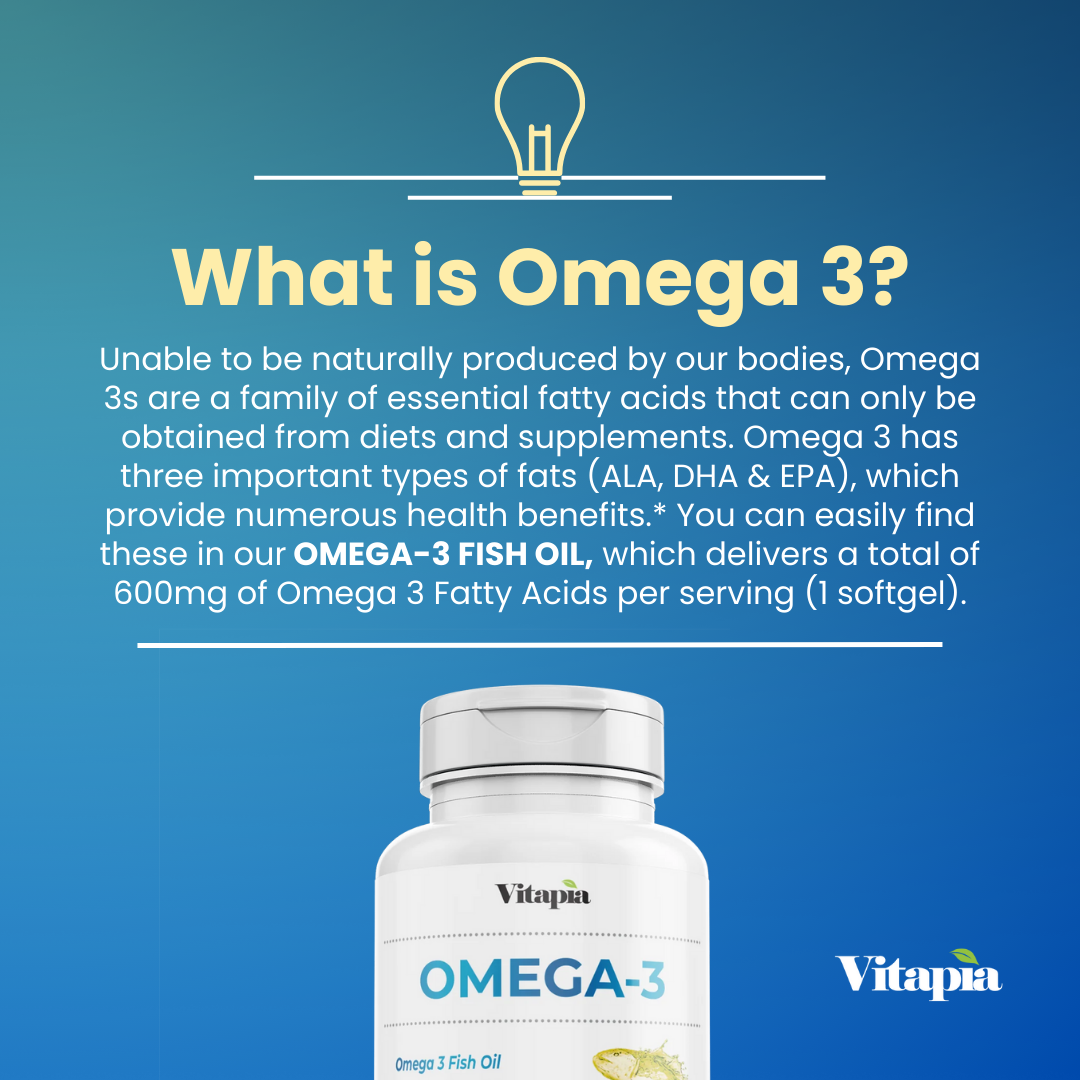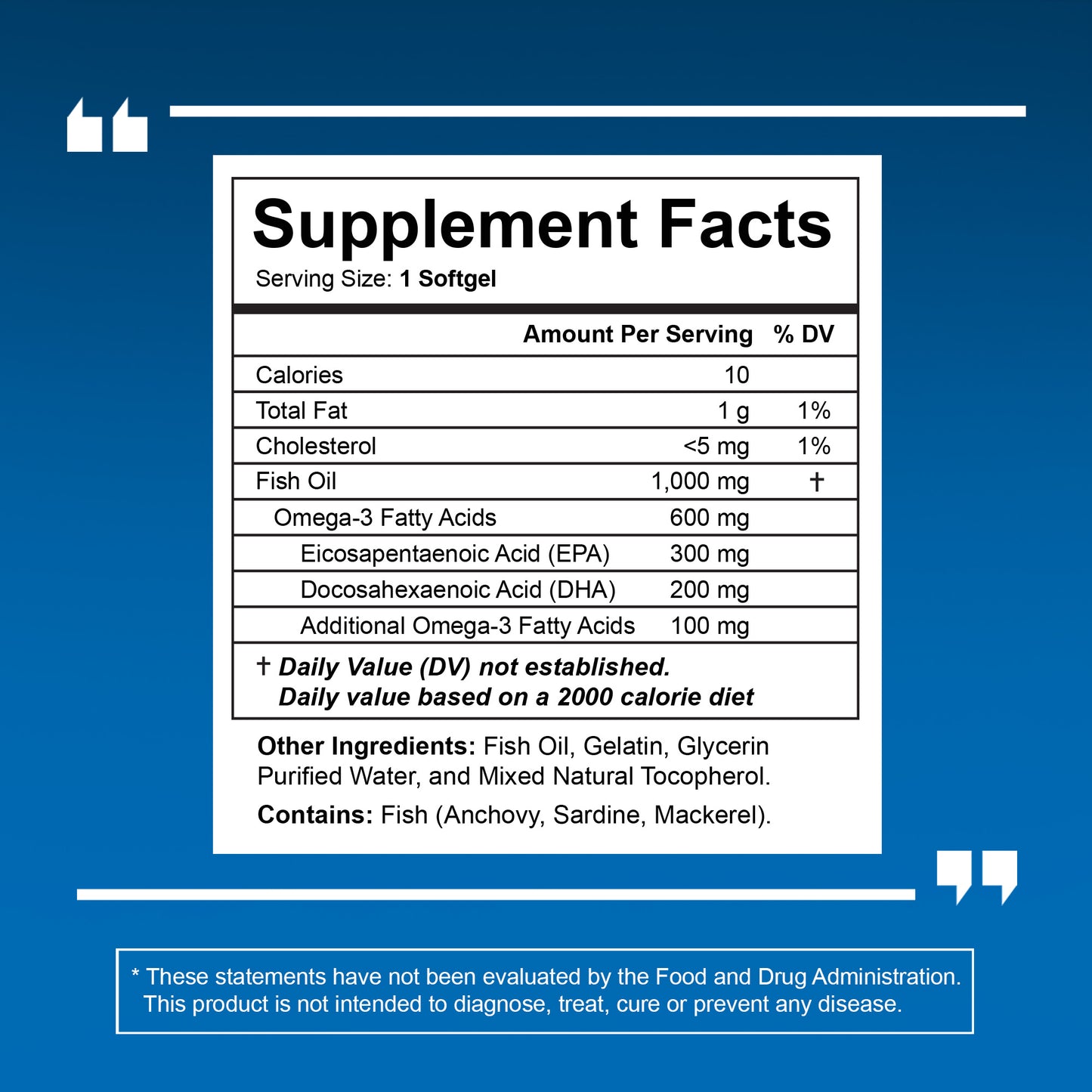 OMEGA 3 FISH OIL FAQs
What is Omega 3?

Omega 3 is a type of polyunsaturated, rich, and healthy fatty acids that one can easily get naturally from food or from various supplements. There are 3 types of Omega 3 fatty acids: ALA, DHA, and EPA. The latter two are typically found in algae and fish, but ALA can be found in plants. There are numerous Omega 3 supplements today to support people's cardiovascular health and general well-being.*
How much Omega 3 Fatty Acids are included in OMEGA 3 FISH OIL?

Our OMEGA 3 FISH OIL contains a total of 600mg of Omega 3 Fatty Acids per serving!
How do I take OMEGA 3 FISH OIL?

 Take 1 softgel daily with a meal or on an as-needed basis. If necessary, please consult a healthcare professional.
How many servings are in OMEGA 3 FISH OIL?

There are 120 servings and 120 softgels per container, 120-day-supply, and 1000mg per serving!
Is OMEGA 3 FISH OIL vegan friendly?

Our OMEGA 3 FISH OIL is not vegan-friendly!
Is OMEGA 3 FISH OIL non-gmo, gluten-free, and dairy-free?

Yes, our OMEGA 3 FISH OIL is non-gmo, gluten-free, and dairy-free!
You May Also Like...
Discover other products that can go well with our OMEGA 3 FISH OIL!
For a healthy tomorrow
To secure a long future, it's necessary to use clean and safe products that can actually deliver results that you desire. That's why Vitapia is committed to developing and formulating supplements that accommodate to your health concerns! All of our products are completely free of GMO and additives & made from a cGMP compliant manufacturing facility.